Responding to market changes; customers provide insight and opportunities.
Conversations with your customers are always useful, no matter the branch you are in. If we look at Steel Solutions and its role as a logistics service provider, during these conversations, topics sometimes arise that put you to think.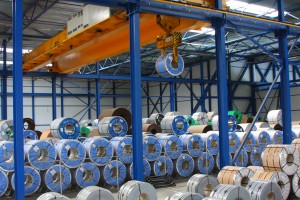 Exactly one of these conversations was the inspiration of this piece. Pretty recently, the EU has started an investigation to Stainless steel products from China and Taiwan. According to the accusing party, these products were sold on the European market at rock bottom prices. Investigation should make clear whether this is a case of antidumping or not?
If the investigation results in a 'yes' to this question, the price of steel will rice enormously due to EU import taxes. That could lead to a great deal of problems with a number of our customers. If the prices of steel go up, demand for these products will automatically drop. A decreasing demand will result in material remaining in stocks for a longer period of time and absence of arrival of new material. No delivery of goods and no supply of new material of course has an impact on a logistics company such as Steel Solutions, because the demand for logistics services will decrease as a result of this all.
But our customers can't wait in despair. If the moment comes, that goods from the Chinese and Taiwanese market are too expensive, new suppliers of similar material have to be found elsewhere. Countries that are possibly interesting new suppliers are India, Korea and Vietnam. And our customers are already on the move. They cannot wait for these sanctions to come into force. When they do, alternative suppliers have to be available.
This is not only an opportunity for our customers, but also for us. Our customers are on the search for new suppliers of steel, sheets as well as coils, in other, perhaps unknown, countries (businesswise). That is where Steel Solutions comes in. Her existing network of steel producers, processors and transporters create endless possibilities to offer assistance to her clients in this new logistic situation. And if Steel Solutions herself doesn't have this knowledge yet, this would be an excellent opportunity to explore the market and find out what options there are for it's customers in these unknown business territories. That would be a win-win situation; Steel Solutions expands its network which will benefit present and future collaborations and the customers do not have to put energy into finding the best parties that will guarantee a good course of the logistic process. They will only need Steel Solutions for that. They will organize and coordinate the logistics process in such a way, that it will meet al the customers' requirements and that the customer doesn't have to worry about anything.
That is what we call responding to market developments. Logistic service providing is not just about monitoring a rise in transport prices or finding new warehouse opportunities. It is about the entire steel market and all the developments and changes that are a part of that. Even if those changes and developments, at first sight, don't seem to have anything to do with the logistic branch. They could still have great impact on our customers and via them, on us. It is our job to make sure that the logistic service that we provide, matches the changing demands of our customers so that their business can continue without the extra worries.
For the Dutch version of this article, please refer to our Blog.
.
Follow us