Welcome to the Steel Solutions BV website.
Located at the centre of the European steel industry, Steel Solutions BV has very quickly become one of the leading business partners with respect to the distribution and logistics of steel in the broadest sense.
Recently, Steel Logistics Europe changed its name to Steel Solutions BV to better reflect the current corporate philosophy. A solution for every problem!
The global steel market has expanded enormously in recent years. Manufacturers in the car and steel industries in India, China, and other countries are beginning to make their presence felt in the European market. This has created a demand for the supply of steel products from these regions. Clearly, one has an effect on the other.
Steel Solutions BV is one of the first companies to have made a comprehensive study of this market and now regards itself as an expert in this arena. Steel Solutions BV brings supply and demand together for many world players in the steel industry.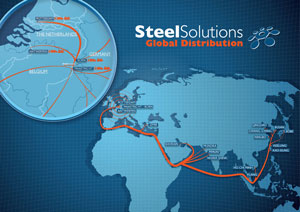 Steel Solutions BV has expanded its original logistics and distribution operations to manage the entire complex chain of supply through to demand. This is called chain management.
This includes storage, distribution, clearance, software solutions in management systems, transportation, stuffing and stripping, and so on. Steel Solutions BV is eager to be your partner and completely take care of your needs.
Follow us